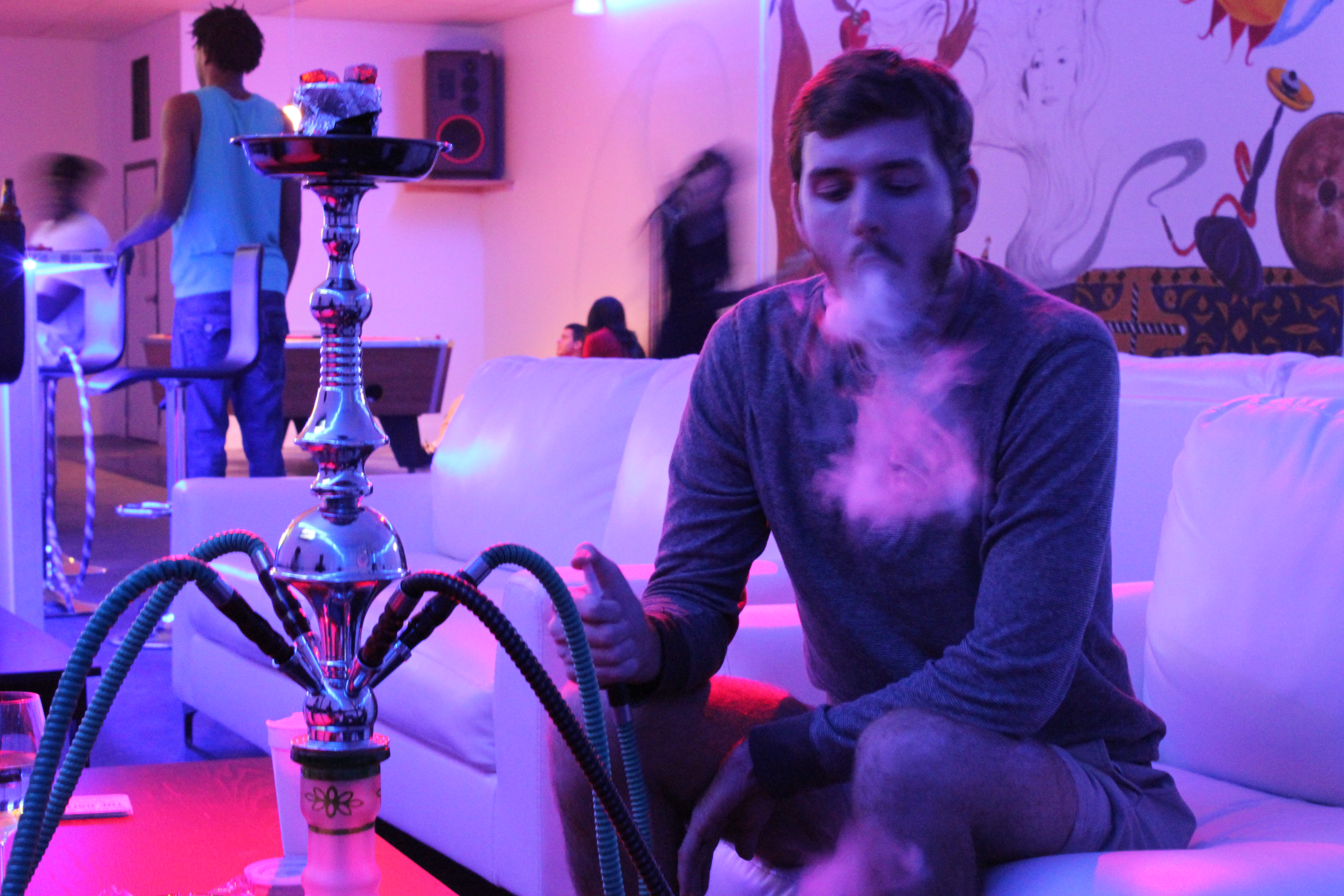 Written by: Abbie Baggerly/Photo by: Ritsuki Miyazaki
Evenings are getting smoky as the city of Valdosta welcomes Vapor Lounge, the premier place to smoke hookah.
A hookah is a tobacco pipe with a long, flexible tube that draws smoke from flavored tobacco through water that is contained in a bowl.
Located on Baytree Road, the lounge is owned by Abhishek Bais.  He is originally from India and came to Valdosta in 2006. He graduated from VSU in 2010 with a degree in business.
"It takes all the stress away from you and makes you want to chill and relax," Bais said. "I kept the prices cheap so all the college kids could afford it and have a blast."
Vapor Lounge offers fifteen different flavors of hookah; wine; and food including gyros, wings, quesadillas, pudding shots and much more.  The lounge also carries many products like hookahs, flavored tobacco, e-cigs, e-hookahs, water pipes and more.
Prices for hookah sessions are $7 per person for people in groups of three or less and $5 per person for groups of four or more. Vapor Lounge is also currently offering a special this week for $4.20 per person for parties of two or more from 4-5 p.m.
Bais always dreamed of owning a business on Baytree, and finally after obtaining 3 jobs and saving money within a year he opened Vapor Lounge.
"As I always wished to open up a hookah lounge in Valdosta, I found a perfect spot by Baytree Pizza, and I couldn't wait to open it up with a bang," Bais said.
Bais wanted a place for students and customers to feel as though they were not in Valdosta. He wanted to create an atmosphere that made people feel as though they were sitting in the middle of Miami or L.A.
Opening a hookah bar was not a simple process. Bais had to obtain a tobacco license and had to have a special ventilation system installed to make sure the smoke and vapor would be extracted properly.
"I kept everything in there white so everything changes color due to the change in the color of lights," Bais said. "Plus there (is a lot) of art work done by local painters which looks really impressive."
Vapor Lounge is open Sunday through Wednesday from 4 p.m.-12 a.m. and Thursday through Saturday from 4 p.m.-2 a.m.