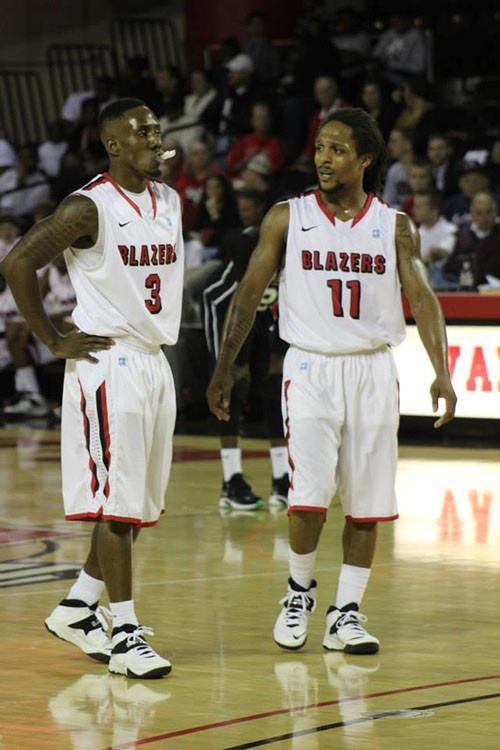 Written by: Shane Thomas / Photo contributed by: Dowling Payne
Following a 97-58 win over Trinity Baptist in Monday's opener, the VSU men's basketball team will host Florida Memorial on Saturday in the first of two weekend games.
In the opener, the Blazers made 13 of 27 beyond the arc, attempted 37 free throws and out-rebounded the Eagles 43-36. Blazers head coach Mike Helfer believes that is a successful formula.
"I hope we can do it consistently," Helfer said. "The nights when you're not making threes, you've got to use that free-throw line and raise that number. In the first game, it seemed like both were working, so that's why the score got like it was."
Junior forward-center Jarod Leonard was a big reason the Blazers won the rebounding battle as he recorded a double-double off the bench. Against FMU, Helfer will look to Leonard to build on his impressive debut.
"I was proud of the way Jarod came into the game," Helfer said. "I thought he came in right away to give us a physical presence inside. Colin (Cook) and David (Murray) will have to give us that as well."
FMU comes into the P.E. Complex Saturday with a 0-2 record following blowout losses to Lynn and Barry.
Despite their struggles, Helfer praised the Lions' coaching staff after Wednesday's practice.
"They're very well-coached and they like to control the ball," Helfer said. "Whenever a team does that, the number of possessions comes down. We have to be careful of our turnovers and not give them extra possessions."
The Blazers will look to get out in transition, which may prove difficult against the Lions, but Helfer maintains he will look to establish his team's style first and foremost.
"I don't want to change how we play to their style unless we just have to," Helfer said. "(FMU) will be prepared for our style, so we'll have to work hard for good shots. We don't want to play fast and take bad shots. We want to play fast and take good shots."
FMU and Carver Bible have played the Blazers in the Comfort Suites Classic three consecutive years. Helfer understands the level of preparation must be high for the weekend matchups.
"When you play back-to-back games, you have to do a good job of preparing – not just for the first game but the second game," Helfer said. "A quick scout means our guys have to be attentive for that second game, but we're just trying to focus on the first one."
The Blazers host FMU at 8 p.m. on Saturday and then follow up with a 4 p.m. tip-off against Carver Bible at the P.E. Complex on Sunday.