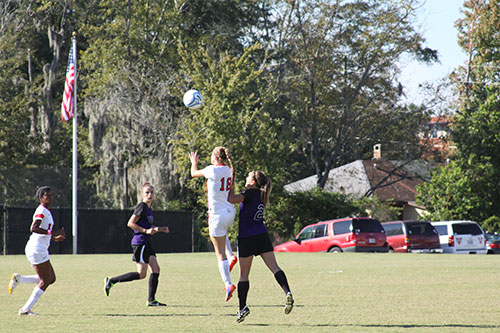 Written by: Julia Armistead / Photo by: David Lacy
Being a student athlete requires excessive determination, dedication and capability.
Nicole Polk has proven to be a prime example of a successful student athlete, and she's only a freshman.
Polk has already established herself as a leading player for the VSU women's soccer team.
From the small town of Leesburg, Ga., the 18-year-old thrived in her high school years, both on and off the soccer field.
The Lee County High School graduate played four years of soccer while maintaining her part-time job at Westover Animal Hospital in Albany, Ga.
Polk has high hopes of becoming an equine veterinarian or a large-animal veterinarian in relation to her love for horses.
In her spare time, the biology major rides one of her two horses while back home in Leesburg, where she developed her passion for larger animals.
With her eyes set on her lifelong goal, Polk works hard academically and knows what she needs to do to reach this accomplishment someday.
"That's my incentive," Polk said. "I have to work hard and get good grades to do what I want and to be successful in life."
VSU head coach Mel Heinz encourages her players to succeed in school and continuously holds high standards for her team in the academic world.
During her tender years, Polk grew up watching her older sister play soccer and was inspired as early as 4 years old to follow in her footsteps. Polk started playing in a recreational soccer league and later joined a local travel team as she developed a love for the sport.
Throughout her years of soccer, Polk has suffered through many injuries but overcame them while sticking to her determination of playing soccer.
"It seems like I'm always injured," Polk said, further explaining an injury involving a horse falling and breaking her leg. It put her out of soccer for almost year. "But I get over it."
Most recently, in March, Polk tore her medial collateral ligament, putting her out of the game for three months, right before starting summer training for the Blazers.
Despite injuries, Nicole does not give up and continues to remain dedicated to the game.
Not only is her sister an inspiration for playing soccer. Polk also admires her mother who was, at one point, a student athlete.
"My biggest role model is my mom," Polk said. "She's awesome. She comes to every game and hasn't missed one."
Polk's mother, father, sister and grandparents have been her biggest supporters throughout her soccer years and have continued to support her 100 percent in her new chapter of life.
Adjusting to college life and college soccer has been difficult for Polk at times. However, the freshman has flourished so far as a Blazer and remains happy with her decision to come to VSU.
"I chose VSU mainly because of coach Mel and the team," Polk said. "But it has the perfect campus feel to it; not too big, not too small, but just right."
Nicole hopes to finish out her four years at VSU and hopes to attend veterinarian school at UGA.
Polk has proven to be an outstanding student athlete, hopefully leading the Blazer women's soccer team to an NCAA playoff victory over Florida Tech on Friday.