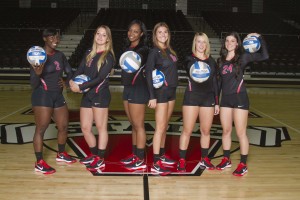 Written by: Neil Frawley.
On Friday, six Blazers will begin their final season as collegiate athletes. But before we delve into the sentimental aspects of everything in their past, there are still 28 regular season matches and a post season to do what no other Lady Blazer volleyball team as done before: win a Gulf South Conference title.
While head coach Mike Swan has been gifted the advantage of so much senior leadership, he believes that all of his players can be contributors from day one, regardless of age or class.
"I think all six seniors have potential to be leaders for everybody to rally around," Swan said. "And I think collectively as a group, hopefully, everyone can provide the leadership we need when they're on the court."
Swan and his players are using these last few days of the pre-season to be as ready as possible to start the season on a double-header. The first match will be against Albany State University, a team that Valdosta State played twice last season, winning both in convincing fashion. But Swan never looks over an opponent and especially isn't leaving anything to chance with this being the first game of the season.
"Albany State always has athletic players," said Swan. "They run an unorthodox offense. I think we can expect a lot of stuff to come back at us. Maybe that will get us out of our way of playing."
ASU, out of the Southern Intercollegiate Athletic Conference, went 17-14 last and were picked to finish first in the Eastern division of their conference this season.
VSU's other opponent, Lynn University, is less familiar to Coach Swan, but not to VSU, who played Lynn every year between 2010 and 2012. In those years VSU lost twice in 3-0 matches, but won in 2011 3-2.
"Lynn, I think, will be a very good opponent for the first weekend," said Swan. "They always have a really good program there."
But before his squad gets to Friday, Swan is mostly focused on his team's performance in practice. He has been stressing to his team that their service must improve, and that it cost them matches a season ago. While the team has improved in that area since the pre-season began, a sloppy Labor Day practice, Swan says, may have taken the team a step back.
"(We had) bad technique," said Swan. "We're being sloppy, and not making the appropriate footwork…just going back to old habits to try and be comfortable.
"I'm hoping today was a fluke, and that… we will be much better."
It's also possible that practicing against themselves for the past three weeks has the team amped to see some new competition on the other side of the net. While the pre-season can help build fundamentals and give coaches the chance to endorse their gamelans, the competitiveness and intensity cannot match that of a real competition.
"I think the girls are looking forward to seeing somebody else on the other side of the net, rather than each other," said Swan. "That will hopefully get it a lot more competitive and engaged more than just practicing against your own team."
The action begins at 3:30 p.m. Friday against ASU, followed by the LU match set for 6 p.m. in the PE Complex.