By: Kenzie Kesselring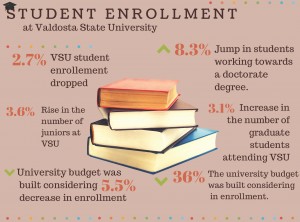 The number of students enrolled at VSU has dropped for the fall 2014 semester, leading many to wonder how it will affect the university.
According to VSU's Office of Institutional Research, in fall 2013 VSU had 11,885 students enrolled in classes and by spring 2014 that number fell to 11,265 students. The final number of students currently enrolled at VSU will not be released until later in October.
Andy Clark, vice president for enrollment, marketing and communications, announced in the President's Newsletter that the unofficial numbers for fall 2014 enrollment are down 2.7 percent from last fall. This news has left many wondering what VSU is doing to increase enrollment for the coming semesters and how it will affect the school's budget.
"We are increasing our marketing budget and targeting our marketing dollars in areas where we should yield more student[s]," Clark said.
In mid-September, VSU held its first V-State Experience in Atlanta and will be holding more in Georgia's major cities throughout the school year. This is just one of the many ways VSU is working to boost enrollment numbers for the coming years.
VSU has also begun a marketing campaign called "Ignite!" which includes TV and radio commercials as well as billboards that target high school juniors and seniors throughout Georgia and North Florida.  
Transfer student enrollment at VSU has increased and there has been a 3.6 percent increase in the junior class. There has also been an 8.3 percent jump in the number of doctoral students and a 3.1 percent increase in the number of graduate students.
According to Clark, this year's enrollment was predicted to be slightly lower than in past years, but this is not abnormal. Also, the drop in enrollment at VSU will not affect the finances of the university.
"Nationally there is a trend occurring where more students are staying home and attending college," Clark said. "The university budget was built considering a 5.5 percent decrease in enrollment, [and] we are currently down 2.7 percent, which is well within what we budgeted."
This decrease in enrollment does not seem to have adversely affected the university so far and with the new marketing budget in place, Clark seems confident that it will not have any lasting effects on VSU's future.