Written By: Neil Frawley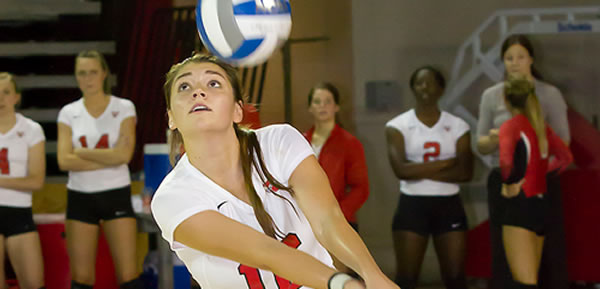 There are 56 banners hanging in the PE Complex and not one is for volleyball.
But when 2013 Gulf South Conference volleyball Coach of the Year, Mike Swan, and his revamped Lady Blazers break in the complex's new paint job on Sept. 6 against Albany State, adding a 57th banner will be of top importance.
On the heels of a solid 19-win season in year one, now sets in the real pressure of expanding on that success and setting the standard of being a GSC title and postseason contender, not only for this season, but for the next several seasons going forward. Coach Swan is confident that this group of players can live up to high expectations.
"Right now, everybody is really healthy," Swan said. "Last year at this time we had people who were hurt already… Everybody's had a good preseason, (and) we just have depth at every position now that I don't think we did last year. I think the whole level of play has been raised considerably."
One area Coach Swan addressed over the summer was his team's inability to control the net when needed. He did this by bringing in Nicole Higgins, Emily Matio, and Julie Masonheimer, a trio of six-footers who expectedly will bring help to a team that finished sixth block average per set at 1.45 percent.
As the saying goes, "defense wins championships," and if Valdosta State can offer more resilience at the net, an improvement in that area should result in more points. This will also increase opportunities for setters to assist outside hitters to improve VSU's kills per set rate, which was third best in the conference.
Joining Higgins, Matio, and Masonheimer is 5'5" freshman, Sydney Chick. Chick was a player at Leon High School in Tallahassee, Florida, and won team MVP all four years on the squad.
Coach Swan raves about Chick's athleticism and believes that it will allow her to be an immediate contributor to the squad from day one.
Rounding out the new recruits is junior transfer from Germany, Lea Jaklen, who boasts an extremely versatile game and will provide depth at all areas for the team.
"Lea is very strong, physically (while) Sydney, the new defensive specialist, is very athletic," Swan said. "I just think our recruiting class did for us what we needed it to do— to challenge returners and to make us better."
VSU also can boast about a solid returning cast, especially with seniors Jessica Codato and Jenna Kirkwood both having been named to the preseason All-GSC team. This makes three Lady Blazers who have been selected to the all preseason in the past two seasons, with senior setter, Ashley Lala, being selected just a season ago.
Other notable returning players include outside hitter Destiny Berry who was second in kills per set at 2.8 and middle blocker Kelsey Hedman who was second in blocks per set despite having to sit out for a full month with an injury.
It will be interesting to watch how the new players work with the returning players, as building team chemistry is always a hurdle that even the best of teams must face. But looking simply on paper, and seeing the depth, the size, and the athleticism, and then the added gift of a full healthy roster: the team has all the right signs of being a great team, and one that will challenge preseason favorite West Florida.
"(West Florida) graduated four key starters, including both setters, so I think they have some work to do, like we all do," Swan said.
Some of the areas Swan noted needed to be worked on were serve receive as well as getting players to stay in the team's system of doing things. He also acknowledged that it has not as much to do with lack of personnel as much with working out the kinks that only practice can resolve.
The campaign begins on Sept. 6 at 3:30 p.m. in the PE Complex, which will start the first game of a double header against Albany State. This will be followed up by a 6:00 p.m. game against Lynn University.
 This story was written by Neil Frawley.