President Barack Obama announced and signed a series of executive orders Wednesday with the intention of curbing gun violence.
This comes on the heels of a series of shootings that have occurred in the last 12 months, such as the massacre at Sandy Hook Elementary in Newtown, Conn., that killed 27, and the massacre at a movie theater in Aurora, Colo., that killed 12.
"We cannot and will not be passive in the face of such violence," Obama said. "We should be willing to challenge old assumptions in order to lessen the prospects of such violence in the future."
Included in the President's plan was to close loopholes in background checks, renew a ban on military-style assault weapons, limit ammunition magazines to 10 rounds, increase the number of school-resource officers and counselors, and increase access to mental health services.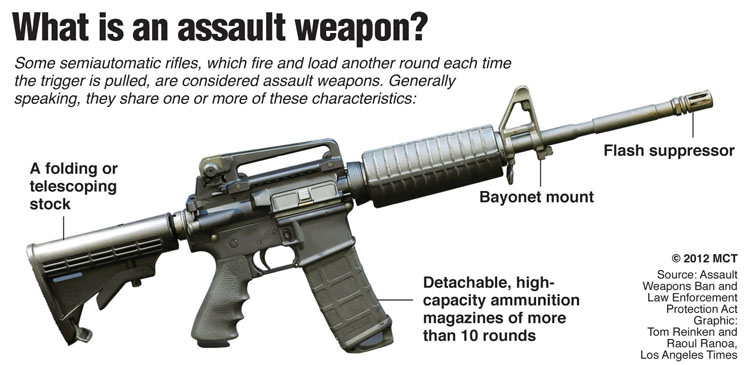 The most controversial aspect of these orders is the renewal of the assault-weapon ban, which was initially in place from 1994 to 2004.
"That ban was an important step, but manufacturers were able to circumvent the prohibition with cosmetic modifications to their weapons," said a press release from the White House. "Congress must reinstate and strengthen the prohibition on assault weapons."
The National Rifle Association, the nation's leading gun-rights advocacy group, expressed their opposition to Obama's plan.
"Attacking firearms and ignoring children is not a solution to the crisis we face as a nation," The NRA said in a statement. "Only honest, law-abiding gun owners will be affected and our children will remain vulnerable to the inevitability of more tragedy."
Some law-enforcement officials are slow to accept the orders, as well, such as Tim Mueller, sheriff of Linn County, Ore., who sent a letter to Vice President Joe Biden stating that he would not enforce the regulations.
"Politicians are attempting to exploit the deaths of innocent victims by advocating for laws that would prevent honest, law abiding Americans from possessing certain firearms and ammunition magazines," Mueller wrote. "I refuse to participate, or stand idly by, while my citizens are turned into criminals due to the unconstitutional actions of misguided politicians."
Reaction to the orders among VSU students has been mixed.
"I think there's nothing wrong with people having (assault rifles)," said Chris Willett, a freshman nursing major. "Just the mental stability of whoever has the assault rifles (should be an issue)."
One VSU student favors the assault-rifle ban, despite listing shooting as one of his hobbies.
"I shoot shotguns, about 350 to 400 rounds a week, and I'm totally for (the assault rifle ban)," said Christopher Webster, a freshman computer engineering major. "Assault rifles are dangerous weapons that can mass-slaughter people."