Written By: Cole Edwards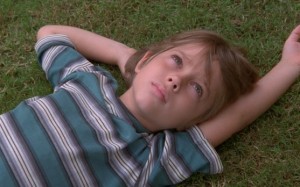 "Boyhood" is an extraordinary film about the ordinariness of life.
Director Richard Linklater, known for art house gems such as "Slacker" and "Before Sunrise," took 12 years to shoot his remarkable cast, who would meet to film three to four days each summer.
As a result, the film is both effortless and complicated, much like life, perfectly capturing the essence of the human condition and the experience of growing up.
The film follows the life of Texas kid Mason, played with astonishing certainty by Ellar Coltrane (cast when he was only six years old) in the developmental years from age seven to 19. The various events that unfold are simple, mundane, sometimes funny, often painful and at once as miserable and astonishing as life itself.
During the film's 164 minutes, we watch Mason and his sister Samantha (played by Linklater's daughter) grow into young adults. Their estranged parents Olivia (Patricia Arquette) and Mason Sr. (Ethan Hawke) provide shaky guidance, since both still have some growing up of their own to do.
Every 10 minutes or so, the movie suddenly jumps to the next year, evident by slight changes in Mason: a new haircut, deeper voice, different clothing style. Nothing particularly earth-shattering ever occurs, yet it's too enthralling to look away.
As he grows, perhaps as a result of his strenuous home life, Mason becomes quieter, more artistic, and increasingly philosophical. In a telling scene, he laments the rise of technology and the toll it's taking on his love life.
From Britney to Gaga, Bush to Obama, the film capitalizes on inescapable pop culture moments during the years of 2002 and 2013. Popular songs from the time period, including Sheryl Crow's "Soak Up the Sun" and Kings of Leon's "Use Somebody," punctuate the film.
Linklater had a rough vision when he began work on the film in 2002, but he could not have known for certain how his precocious young actors would change. Knowing this, it is incredible to see how seamlessly it all fits together.
Though the film runs 2 hours, 45 minutes, it goes by all too quickly, much like boyhood itself, and the bittersweet feeling at the end leaves the audience yearning for more.